Get the card. Pass it on.
Simply provide us with your name and address and we will mail out a few cards for you to get started. At any time you can request more cards, free of charge. Please input your information as it should be displayed on an address label. While we encourage entering your information below to receive our free, pre-printed cards... you can also download printable cards via the links below. These downloadable cards are only one-sided versus our preprinted two sided cards. If you have problems with the request form below or have questions, please email us at info@giftofkindness.com.
Share your thoughts about this site.
Click Here to Sign Our Guest Book.

Download printable cards in Adobe PDF format.
Click Here for Thank You Cards
Example (just one of many).... you pull into a drive-thru and pay for your order. Instead of just taking your food and pulling off, give the Gift of Kindness and pay for the person behind. Sure it may cost you $5 but the simple act will have a profound impact on that person and in your own life. It's easy, you tell the cashier you want to pay for that person behind you too. You then hand the cashier a KINDNESS CARD and ask that they give the card to the person when they pull through to pay. This lets the recipient know and become aware of the initiative as the card explains it. Later in the day or week, this person will look at the card and it will remind them that they were the recipient of a the Gift of Kindness. The card serves as a reminder and a vehicle to be contagious and spread positive energy.
The concept is simple. The impact is overwhelming. The opportunity is now up to you.
Give the Gift of Kindness on a regular basis and you will be see a change not only in the lives of those around you but also a positive, more fulfilling change in your own life.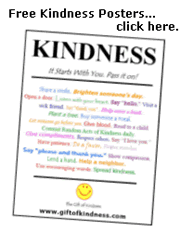 Click here to download the Gift of Kindness Flyer as an Adobe PDF file.