STAY TUNED: New website being launched soon!
"Every kind act, no matter how small, is like a pebble tossed into the pond of human caring...
the rings reach out far beyond the point of impact; the action of our kind deed acts more kindly toward the people around them, those people act more kindly toward the people around them, and so it goes, on and on."
GiftofKindness.com is global initiative with one primary purpose... to inspire others to be kind, compassionate and loving to one another... at home, at work, and in every interaction throughout the day. We believe in Intentional Acts of Kindness that are deliberate, frequent and a part of our every day lives.
Kindness, at its core, is love. It is joy, peace, patience, goodness, faithfulness, gentleness, and self-control. Kindness is cultivating the Fruits of the Spirit within us all.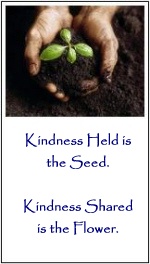 Through Free Kindness and Thank You Cards, Downloadable Kindness Posters, Inspirational Newsletters (subscribe here), Kindness Gear, and other online and offline resources, GiftofKindness.com will provide tools that encourage kindness as a way of life rather than just the occasional random act.
NEW: Check out several new downloadable posters!
We all know the world could use some changing. All one need do is open a newspaper or turn on the television to sample the sadness, anger, violence, and hopelessness that surrounds us. Many have thrown up their hands in frustration with their seeming inability to "make a difference" in this all-too-tumultuous world. The Gift of Kindness concept reintroduces us to a precious, highly-accessible tool, a tool with which we can make positive changes and alter the focus of our surroundings from negativity to kindness and caring. The tool is the well of human kindness that dwells in our hearts,
all too often reserved for specific people and occasions
instead of being offered every day to the public at large.
Be the change you wish to see. It starts with you. Pass it on...
Share a smile. Brighten Someone's Day. Be Kind.
Request your Free Kindness Cards to share within your school, workplace, and community. Click Here
Read what others are saying about giving the Gift of Kindness. Click Here.
Share your comments. info@giftofkindness.com
Learn how you can help. Click Here.